IV Congreso Internacional Cusano de Latinoamérica - Buenos Aires, 24-27/07/2018
Posted on:

26 February 2018

By:

alessandro.carrieri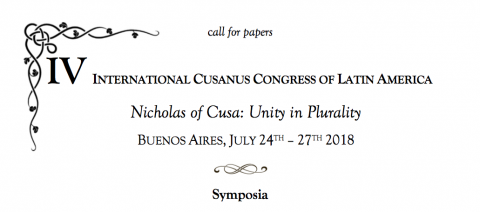 CÍRCULO DE ESTUDIOS CUSANOS DE BUENOS AIRES e INSTITUTO DE FILOSOFÍA DE LA UNIVERSIDAD DE BUENOS AIRES
juntamente con
KLAUS REINHARDT INSTITUT, Bernkastel-Kues
CUSANUS HOCHSCHULE, Bernkastel-Kues
convocan al
IV CONGRESO INTERNACIONAL CUSANO DE LATINOAMÉRICA
NICOLÁS DE CUSA: UNIDAD EN LA PLURALIDAD
BUENOS AIRES, 24 al 27 de JULIO, 2018
Informes y Contacto: cuartocongresocusano@gmail.com
Secretaria: Nadia Russano (Universidad de Buenos Aires)
Sede del Congreso: Biblioteca Nacional – Sala del Museo del Libro
Correspondencia: Instituto de Filosofía – Universidad de Buenos Aires – Puán 480 – 4to. piso (1406) Buenos Aires
Reiteramos nuestra invitación a investigadores, especialistas y estudiosos del pensamiento de Nicolás de Cusa a participar en nuestro próximo IV Congreso Internacional que proponemos bajo el tema Unidad en la pluralidad considerando que la múltiple y variada especulación propuesta por Nicolás de Cusa constituye una muestra clara de la vigencia de este lema.
Este tema general será abordado desde distintas perspectivas que tendrán un ámbito de discusión particular en el marco de respectivos Simposios específicos dentro de la unidad del congreso: (1) Metafísica y Teología; (2) Epistemología; (3) Ética y Estética; (4) Mística; (5) Política; (6) Fuentes y (7) Proyección. Con este formato consideramos que se facilitará la posibilidad de participación teniendo en cuenta la diversidad y multiplicidad de enfoques propios del pensamiento cusano. Cada Simposio será coordinado por un especialista en el área y se prevén conferencias magistrales a cargo de investigadores invitados en cada uno de ellos.
Convocamos a la presentación de ponencias individuales que serán incluidas en alguno de los Simposios. Las propuestas se recibirán hasta el 31 de marzo de 2018 en cuartocongresocusano@gmail.com con copia al mail del coordinador del Simposio que corresponda. En ellas debe figurar: Nombre y Apellido, Pertenencia Institucional y un resumen de alrededor de 300 palabras que será sometido a referato.
En documento adjunto encontrará los textos de las propuestas temáticas de cada Simposio con el nombre de su respectivo coordinador.
Quienes necesiten apoyo económico para los días de alojamiento durante el Congreso deben dirigir una solicitud que será evaluada de acuerdo a los fondos disponibles. La solicitud debe contener título y resumen de la exposición junto con un breve CV y será recibida hasta el 20 de febrero de 2018.
Asimismo quienes requieran una invitación formal pueden solicitarla a este mail.
Idiomas oficiales del Congreso: castellano, inglés, portugués, italiano, alemán y francés.
Aranceles para participantes: U$S 50.
Estudiantes y asistentes: gratis.
IV Cusanus Congress – Second call for papers
CÍRCULO DE ESTUDIOS CUSANOS DE BUENOS AIRES and INSTITUTO DE FILOSOFÍA DE LA UNIVERSIDAD DE BUENOS AIRES
in association with
KLAUS REINHARDT INSTITUT, Bernkastel-Kues
CUSANUS HOCHSCHULE, Bernkastel-Kues
call for papers to
IV INTERNATIONAL CUSANUS CONGRESS OF LATIN AMERICA
NICHOLAS OF CUSA: UNITY IN PLURALITY
BUENOS AIRES, 24th – 27th JULY, 2018
Reports and contact: cuartocongresocusano@gmail.com
Secretary: Nadia Russano (Universidad de Buenos Aires)
Headquarter of the Congress: Biblioteca Nacional – Sala Museo del Libro
Correspondence: Instituto de Filosofía – Universidad de Buenos Aires – Puán 480 – 4to. piso (1406) Buenos Aires
We reiterate our invitation to researchers, scholars and specialists in Nicholas of Cusa to participate in our next IV International Congress that we propose under the theme Unity in plurality, considering that the multiple and varied speculations proposed by Nicholas of Cusa are a clear example of the validity of this motto.
This general theme will be approached from different perspectives in the context of specific Symposia, to wit: (1) Metaphysics and Theology; (2) Epistemology; (3) Ethics and Aesthetics; (4) Mysticism; (5) Politics; (6) Sources and (7) Projection. We consider this format to facilitate the possibility of participation, taking into account the diversity and multiplicity of approaches typical of the Cusan thought. Each Symposium will be coordinated by a specialist in the area, and keynote lectures will be provided by invited researchers.
We call for individual presentations for any of the proposed Symposia. The proposals will be received until March 31, 2018, at cuartocongresocusano@gmail.com, with a copy to the corresponding coordinator of the Symposium. The proposal must include Name and Surname, Institutional Membership and a summary of about 300 words that will be submitted to review.
In the attached document you will find the thematic suggestions for each Symposium and the e-mail of the respective coordinator.
Those who need financial support for the days of accommodation during the Congress should send a request to cuartocongresocusano@gmail.com. It must contain the title and a summary of the presentation along with a brief CV. Requests will be received until February 20, 2018, and will be evaluated according to the funds available.
Likewise, those who require a formal invitation to the Congress can request it to this mail.
Official languages of the Congress: Spanish, English, Portuguese, Italian, German and French.
Fees for participants: US $ 50.
Students and assistants: free.
Call for papers:
http://www.cusaniana.unito.it/sites/www.cusaniana.unito.it/files/IV%20In...