The Faces Of Nature - Turin, May 22-23, 2018.
Posted on:

3 April 2018

By:

alessandro.carrieri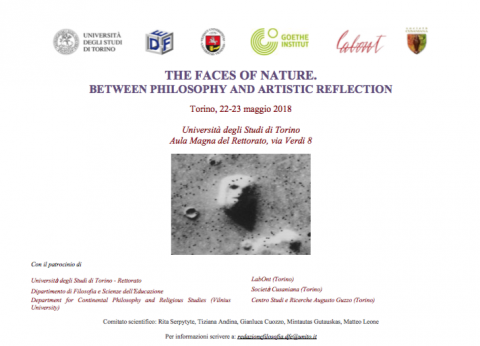 THE FACES OF NATURE.
BETWEEN PHILOSOPHY AND ARTISTIC REFLECTION
Torino, 22-23 maggio 2018
Università degli Studi di Torino
Aula Magna del Rettorato, via Verdi 8
Con il patrocinio di
- Università degli Studi di Torino - Rettorato
- Dipartimento di Filosofia e Scienze dell'Educazione
- LabOnt (Torino)
- Società Cusaniana (Torino)
- Department for Continental Philosophy and Religious Studies (Vilnius University)
- Centro Studi e Ricerche Augusto Guzzo (Torino)
Comitato scientifico: Rita Serpytyte, Tiziana Andina, Gianluca Cuozzo, Mintautas Gutauskas, Matteo Leone
Per informazioni scrivere a: redazionefilosofia.dfe@unito.it
DOWNLOAD PDF:
http://www.cusaniana.unito.it/sites/www.cusaniana.unito.it/files/The%20f...
PROGRAMMA
22 maggio 2018
Mattina (10.00 - 12.30)
Saluto delle Autorità Accademiche
Faces of Nature in the Late Modernity. Philosophical Reflections/ Philosophical Reflections of Nature in Late Modernity
- Mintautas Gutauskas (Vilnius University), What does it mean "The End of Nature"? Presuppositions of Diagnosis and Ambiguous Heterotopias
- Danutė Bacevičiūtė (Vilnius University), Environmental Ethics as an Ascetic Practice in the Age of Technology
- Vaiva Daraškevičiūtė (Vilnius University), The End of Nature: Between Disenchantment of the World and New Mythologies
Presiede Giuseppe Riconda, Prof. Emerito dell'Università di Torino
Pomeriggio (15.00-19,00)
Natur, Landschaft und ornamentum/Nature, Landscape, ornamentum
- Rita Serpytyte (V ilnius University), La 'natura' della legge: nomos come ornamentum
- Il Kim (Auburn University), Nature and Human Nature: Invention as a judicial assembling of seemingly discordant elements, according to Alberti and Cusanus
- Thomas Leinkauf (Münster Universität), Formen platonischen denkens in der Renaissance [Forme del pensiero platonico nel Rinascimento].
Presiede Matteo Leone (Storico della fisica, Università di Torino)
23 maggio 2018
Mattina (9.30-13.00)
Crisi ecologica e nuove immagini della natura: scienza, letteratura e arte in dialogo:
- 9,30.00-10,30 Barbara Lanati (Professore Emerito dell'Università di Torino) e Ugo Nespolo (Artista e filosofo) in dialogo. Il paesaggio nella letteratura, nella fotografia e nell'arte angloamericana.
- 10.30-11.30 Luca Mercalli (Presidente Società Meteorologica Italiana e giornalista scientifico) e Massimo Zucchetti (Politecnico di T orino, MIT) in dialogo. Antropocene, limiti dello sviluppo e del pensiero scientifico.
- 11.30-12.30 Maurizio Ferraris (Filosofia teoretica, Università di Torino) e Gianluca Cuozzo (Filosofia teoretica, Università di Torino) in dialogo. Immagini della Natura, tra burocrazia e documentalità.
Modera Ugo Volli (Università di Torino)
Pomeriggio (14.30-19.00)
- 14.30-15.30 João Maria André (Universidade de Coimbra), Arte e Natura: ripensamento cusaniano del concetto di imitatio.
Natura e riflessione filosofica: i fondamenti della cultura umanistica. Interventi di giovani studiosi:
Intervengono: Greta Venturelli (dottoranda, Torino), Antonio Dall'Igna (dottore di ricerca, Torino), Alessandro Carrieri (dottorando, Torino), Nicola Siddi (architetto e filosofo, Torino), Fabio Dellavalle (AICA International Association Environmental Communication, Bra), Elisa Destefanis (laureanda, Torino).
Coordina Marco Fracon (giornalista)